Big G Express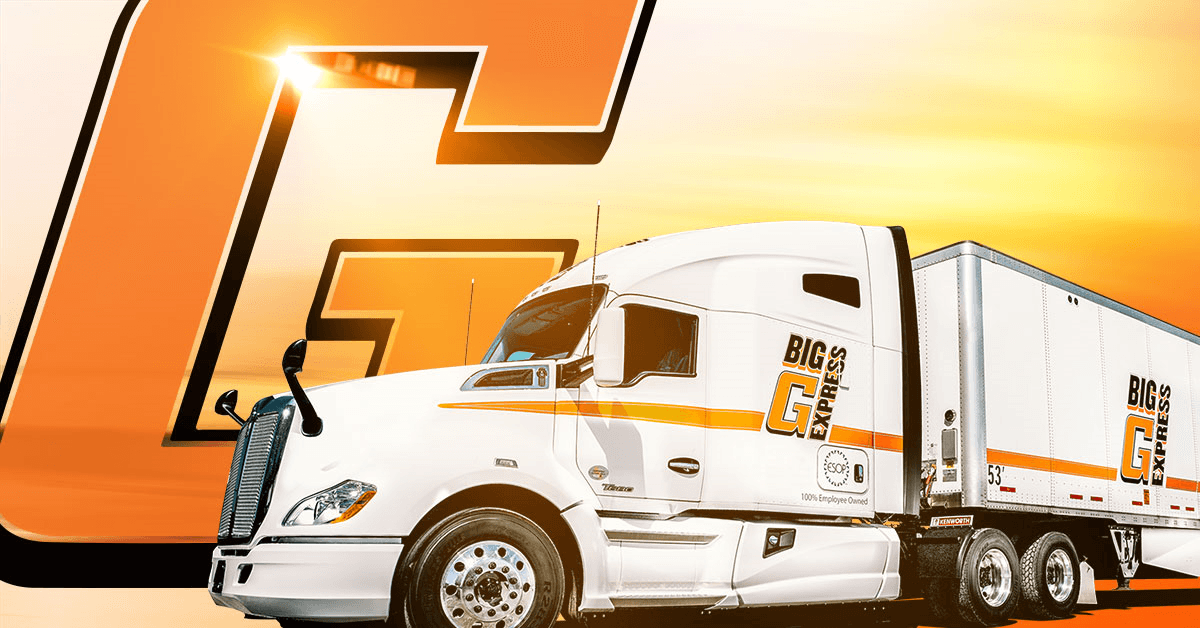 Benefits
Vision Insurance
Dental Insurance
Life Insurance
Paid Weekly
BCBS Health Insurance
Paid Vacation and Paid Holiday
Free Retirement with Employee Stock Ownership Plan (ESOP)
Monthly mileage bonus 1 cpm for 11,000 + miles
Competitive base pay starting at .40cpm
Bi-annual Fuel & Performance Bonus ½ cpm
Incentives
Excellent bonus opportunities
Late Model Tractors
EZ Pass/PrePass & APU in all trucks
100% EOBR
100% employee owned
90% Kenworth T680s, 2016 Volvos
Annual Safety Bonus ½ cpm
Pet and Rider Policy
Company Overview
Big G Express
888-690-6929
100% employee-owned Big G Express offers great OTR truck driver jobs with most weekends at home!
Dry van truckload carrier based in Middle Tennessee needs solo company CDL-A truck drivers! Join the Big G Express family and be part owner of the company!
If you have at least 6 months of over-the-road (OTR) experience and want a CDL-A truck driver job with great benefits, a competitive pay package, weekend home time, and late-model well-maintained equipment, Big G may be the trucking company for you!
At Big G Express, you'll enjoy:
Earn $0.42 to $0.47 CPM starting pay

Based on experience, clean driving record, & stable work history
Pay Mileage program – PC Miler Practical Miles

Average $1,050+ per week
Average $55,000+ per year
½ CPM raise EVERY 6 months
Employee Stock Ownership Plan (ESOP) & 401(k) with match
Excellent bonus earning potential:

Monthly mileage bonus
Bi-annual fuel & performance bonus
Annual safety bonus
Unlimited referral bonuses - $2,000 per driver

Home most weekends
E-Z Pass, PrePass, APUs, & Inverters
Late-model equipment
Pet & rider policy
Industry-leading benefits:

Affordable family health insurance
Free life insurance & long-term disability plans
Paid Vacations & Paid Holidays
About Big G Express, Inc.:
Big G Express is a 100% employee owned company that has been in business for over 21 years. As a financially stable trucking operation, Big G Express is able to offer professional truck drivers the best truck driver job, with well-maintained, late-model equipment and the latest technologies to keep CDL-A truck drivers safe on the road and get them home to their families in the same condition they left the house. Big G Express respects and values our professional truck drivers and offers a family friendly atmosphere where drivers can get consistent miles and earn the money needed to support their families with consistent home time most weekends.
Contact Info
Big G Express
190 Hawkins Drive
Shelbyville, TN 37160
Phone Number
Recruiting : 844-321-0257