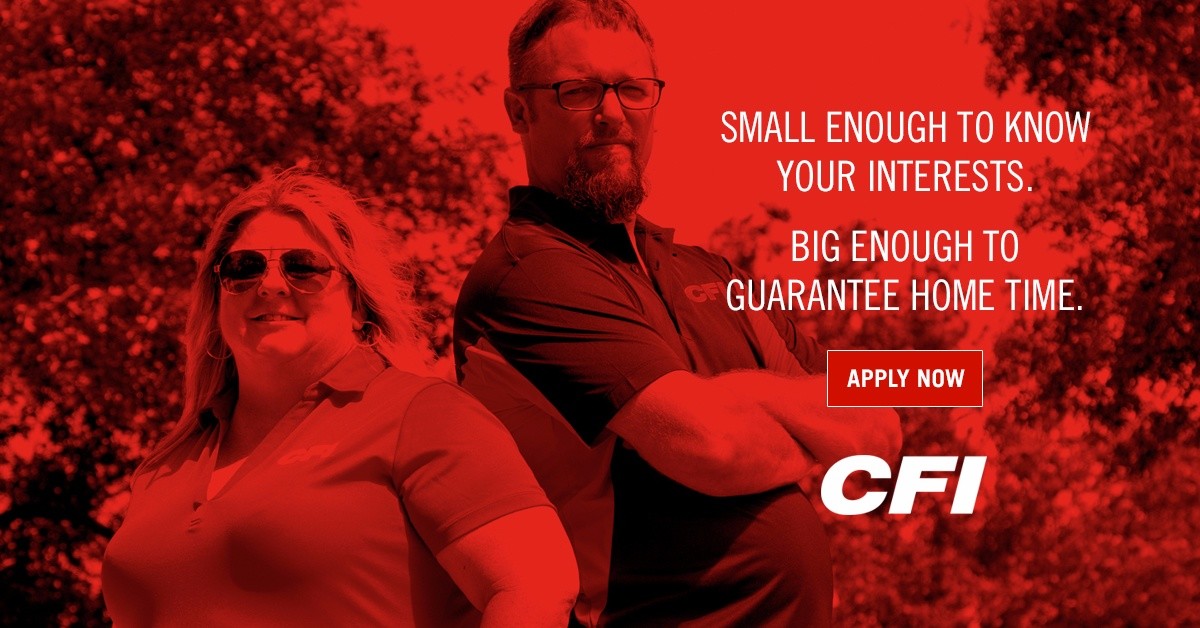 Requirements
Driver Type(s)
Company Driver
Owner Operator
Student Driver
Team Drivers
Benefits
Health Insurance
Vision Insurance
Dental Insurance
Life Insurance
Cargo / Collision / Liability Insurance
Retirement Plan
Paid Vacation
Layover Pay
Pickup/Drop Pay
Paid Fuel Surcharge
Direct Deposit
Incentives
Free Rider Program
Pet Friendly
Sign On Bonus
Company Overview
CFI
(888) 381-2921
When you drive for CFI, you have the respect and support of an entire team behind you. We put you behind the wheel of some of the newest equipment in the trucking industry, and our sophisticated freight planning ensures driver-friendly freight and reliable home time. CFI has the opportunity to create value for their customers and truck drivers and has a long-standing history of doing so.
Drive with our respect and support behind you every step of the way! Call a Recruiter TODAY! 888-381-2921
About CFI
1951 CFI founded
2007 CFI purchased by Con-way, becomes Con-way Truckload
2015 XPO purchases Con-way/Menlo
2016 Transforce purchases Truckload division (us again!) and sets us up to be a standalone profit-generating, empowered company. Back to our roots!
2016 WE ARE CFI
This brings one of the best brands in trucking back – CFI – while keeping the great people, support, and systems in place that made CFI, Con-way Truckload, and XPO great. The future for all CFI drivers and employees has never been better and brighter!
Based in Joplin, Missouri, we have the resources available to help our over-the-road drivers reach their goals. We'll keep your career moving with programs like lease-to-own to become an owner operator.
But career advancement isn't the only reason to drive for CFI. We put a priority on safety, respect and teamwork. You'll get 24/7 support from dispatchers and mentors while you're behind the wheel of modern, well-maintained equipment. And as large as we are, you can be assured that your voice will count.
Contact Info
CFI
Five Greenwich Office Park
Greenwich, CT 06831
Phone Number
Recruiting : 888-381-2921