Hunt Transportation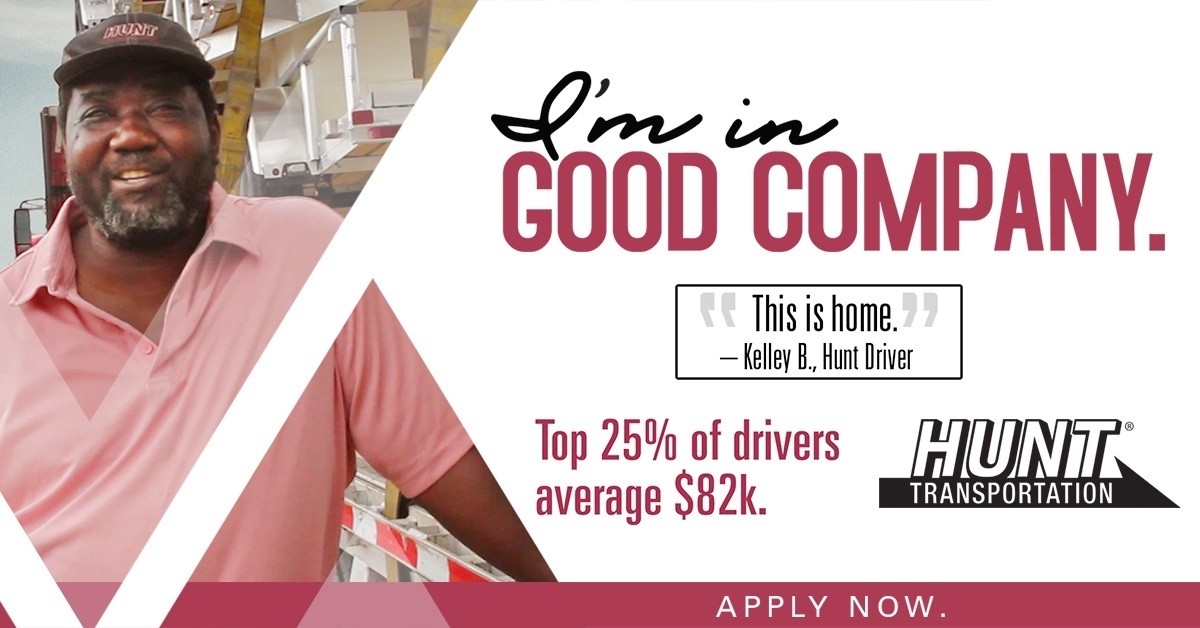 Truck Driving Jobs at Hunt Transportation
This company's jobs will be updated shortly...
Requirements
Driver Type(s)
Company Driver
Owner Operator
Student Driver
Team Drivers
Benefits
Health Insurance
Vision Insurance
Dental Insurance
Life Insurance
Retirement Plan
Paid Vacation
Paid Weekly
Layover Pay
Direct Deposit
Stop & Drop pay
Full benefits: Health from BCBS of Nebraska, dental, vision, life and 401K
Paid orientation
Short-haul compensation package
Incentives
Lease Purchase Available
The top 25% of our OTR drivers average $82,000 per year
Annual profit sharing contribution
Industry leading CSA scores
Average equipment age of 2 years
Dedicated Dispatch 24/7
Awarded as a Top Pay Certified Carrier by the NTI for over 10 years
Company Overview
Hunt Transportation
(855) 787-6455
About Hunt Transportation
It takes special skills and expertise to handle the variety of loads hauled by flatbed drivers. At Hunt Transportation we pride ourselves on our experienced drivers who know how to safely deliver your freight to its destination. We handle all kinds of specialized loads: oversized and overweight freight, construction and agricultural equipment, raw materials, and machinery. With both national and dedicated fleets, Hunt operates more than 250 tractors and 600 flatbed freight, drop-deck, RGN, and curtain-side trailers throughout the 48 contiguous states. Hunt Transportation is part of family-owned Crete Carrier Corporation; combining big company strength with a small, family business approach.
Driver Pay
OTR drivers start out earning $.52 - $.55 per practical mile
The top 25% of our OTR drivers average $82,000 per year
Awarded as a Top Pay Certified Carrier by the NTI for over 10 years
Safety and productivity bonus
Short-haul compensation package

Earn $35 for any trip with a loaded length of 350 miles or less

Stop & Drop pay
Tarp Pay

$50 for tarping and $20 for re-tarping
Less than 15% of our freight is tarped
Benefits of Joining Hunt Transportation
Full benefits: Health from BCBS, dental, vision, life and 401K
Pet Policy
No-cost rider policy
Increased cruise speed
Annual profit sharing contribution
Paid orientation
Industry leading CSA scores
Average equipment age of 2 years
Dedicated Dispatch 24/7
Qualifications
Valid Class A CDL
TWIC Card and Alabama coil certificate
One-year of verifiable tractor trailer experience
Has passed the required company and DOT physical, required drug test, company in-truck driving test, and otherwise meets DOT requirements
Stable, verifiable work history
Minimum 22 years old
Has an acceptable driving record as reflected by MVR and PSP with no major preventable accident in the most recent five years
No DUI or DWI convictions or positive drug screens or events in the past five years
Able to perform functions set forth in the job description
Contact Info
Hunt Transportation
10770 I Street
Omaha, NE 68127
Phone Number
Recruiting : 855-787-6455
Connect with Hunt Transportation